Nail Hair

Nail Hair is one of our most popular methods and offers long-lasting results - up to three months! This method attaches with wax and is available in over 50 different shades. Here you can read all about how it works. We also provide you with care and styling tips on how to take care of your new hair extensions.
What are Nail Hair extensions?
Nail Hair is a Rapunzel hair extension method which is attached using heat and is the method that lasts the longest of all our alternatives. This method is also known by other names such as hot fusion, nail hair extensions, keratin strands, extensions with wax, keratin extensions and u-tip extensions.
Nail Hair is one of our most common extension methods and the choice of colours, lengths and qualities is huge. With over 50 colours in the range you will easily be able to find just the right shade, length, style and quality to suit you. The bonds are heated using a hot iron and stay in place for up to 3 months, meaning that you can sleep, exercise, bathe and have loads of fun with your hair extensions during all that time. Extensions are made of real hair and can be styled just like you would your own hair enabling you to create your own style and image, irrelevant of whether you want thicker hair, longer hair or just some colour effects.
Natural look
Rapunzel's Nail Hair strands have small bonds that are attached close to your scalp. The bonds are warmed and attached to your own hair using a hot iron. The extensions, which are made of synthetic ingredients, are pre-attached to the bonds which look like small finger nails and melt when they reach the right temperature. The nail strand which weighs up to 1g is then attached around a thin strand of your own hair by rolling the soft bond in your fingers and left to harden. The small bonds come in the same shade as your hair extensions and are almost invisible to the eye. The Nail Hair method is excellent for hair lengthening, thickening or for creating colour effects and is made of real hair so it can be cut and styled as you wish. This, together with the great quality of the hair, means that it feels and looks just like your own hair and gives a very natural look.
Straight or Curly Nail Hair?
Depending on whether you have straight or curly hair there are options for both types in Nail Hair extensions.
Straight Nail Hair
or
Curly Nail Hair
. Straight extensions often have a slight wave to them after washing and have gone through fewer treatment stages than curly hair. Often it has only been coloured or bleached. Curly extensions have been permed to achieve their shape, which means that they keep their shape even after washing. All our real hair extensions can be curled, straightened or styled to achieve the look you want.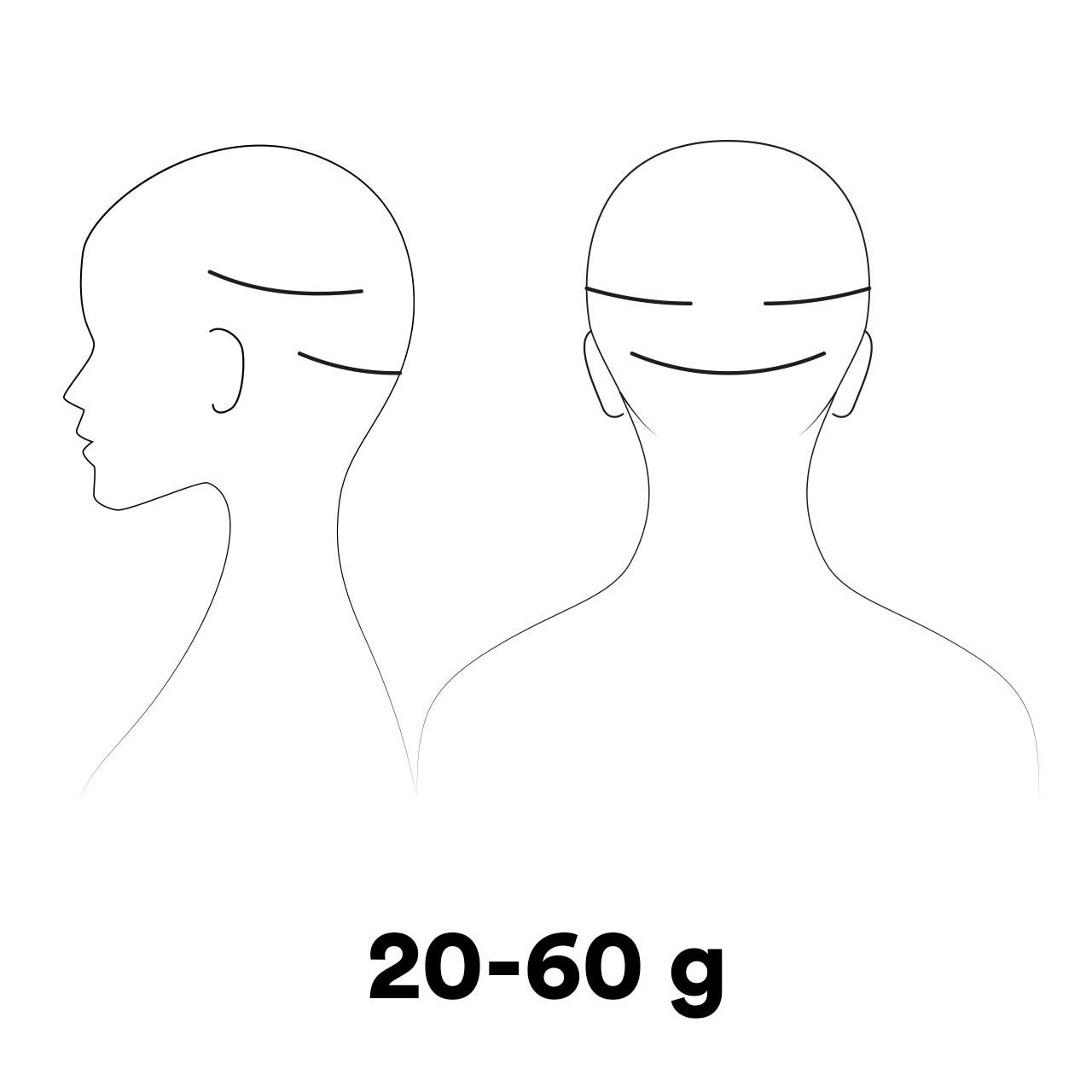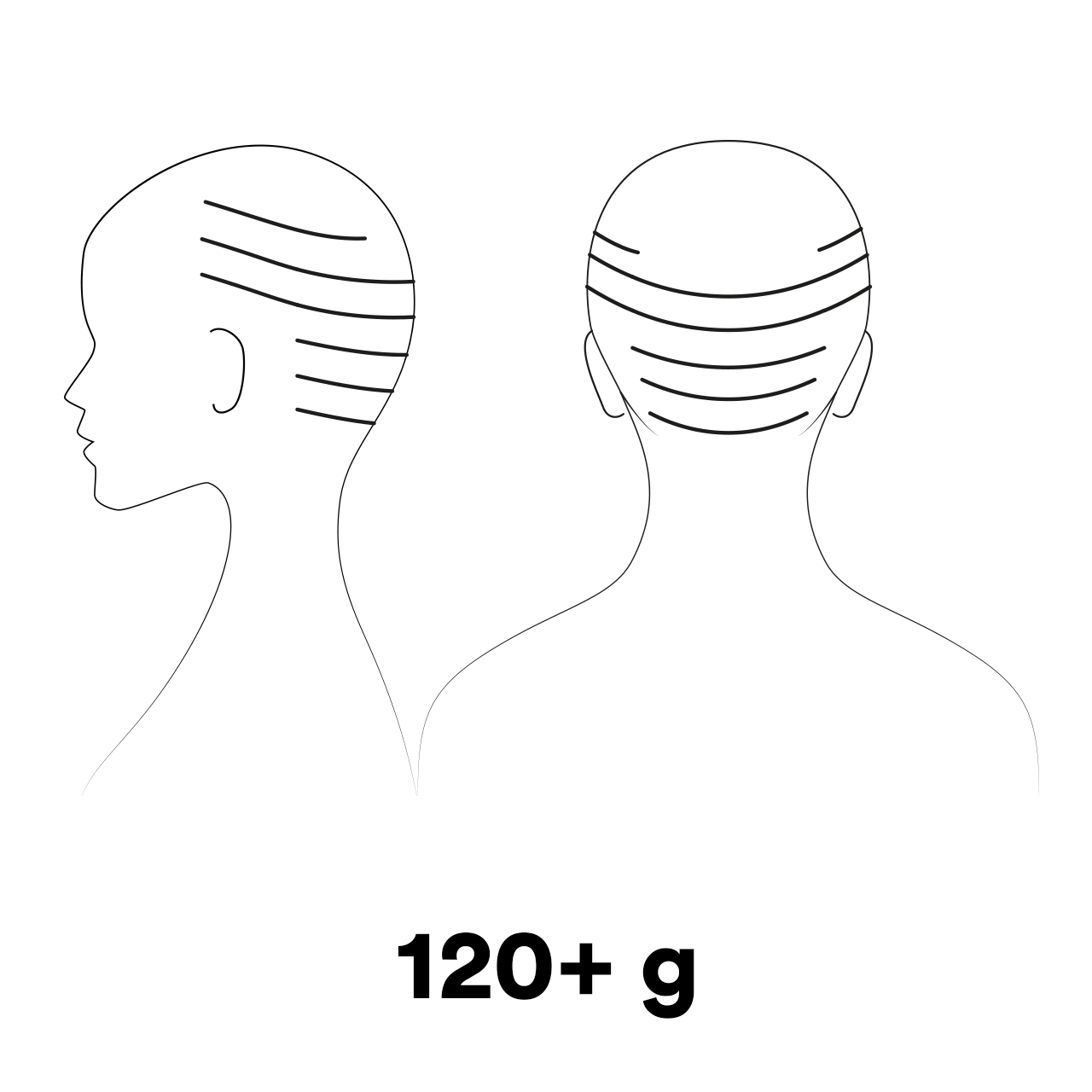 How to attach your Nail Hair – Positioning
When doing a hair extension, we normally recommend using 4-7 packs depending upon how thick your hair is to begin with. If you want to thicken your hair using Nail Hair then we recommend 1-3 packs. This also depends upon how much hair you had previously and how thick you want your hair to be.

1. With a smaller amount of hair extensions (approx. 20-60 g) you place the strands in three sections with the first section level with the top of your ear. Work then upwards until you have the desired result.

2. For a standard hair thickening with approximately 70-120 gram of hair extensions you place the strands in three sections with the first section level with the top of your ear. Then place two more sections of strands on either side of your head. Place these at the same height as the top section in a slightly diagonal direction going upwards and slightly forwards in front of the ear.

3. If you want very thick hair and use 120g or more of extensions then we recommend that you place the strands in five sections with the first section beginning level with the bottom of your ear. After that, place a further three sections on each side of the head starting level with the top section and in a slightly diagonal direction going upwards and slightly forwards in front of the ear.

Colour Effects
If you would like extensions as colour effects or to mix colours, then the best idea is to attach a colour that is most similar to your roots colour as the top row. By doing this your bonds will be less visible.
Removing Nail Hair extensions
Upon removing Nail Hair extensions please use remover and Nail Hair remover pliers. Section the hair just as you did when attaching the extensions and remove the extensions row by row, strand by strand. Apply remover on the bond. Use the pliers to break down and loosen the bond. Apply more remover if required and then gently pull out the extension strand. If you feel that it is still firmly stuck in place then apply more remover, loosen up the bond with the pliers and pull gently again. Carefully comb out any remains of the bond with a tail comb.
Wash your extensions - Nail Hair extensions
To get your hair and your extensions to stay beautiful for as long as possible it is important to give them lots of moisture and nourishment. Choose the right products, ones which have moisture and nourishment adding ingredients and use brushes which are suitable for extensions.

Start by gently separating your hair with your fingers and brush through it whilst it is dry. Rinse with lukewarm water and apply shampoo. Massage the shampoo in using your fingertips in downwards movements. Rinse thoroughly and carefully squeeze out the water.
Use reconstruction treatment 1-3 times a week. After washing, apply plenty of reconstruction treatment on the lengths and ends. (Avoid conditioner and reconstruction treatment getting on the bonds as it can cause the bonds to slip out). Leave for 3-10 mins. Rinse with lukewarm water, gently squeeze out the water and apply conditioner to the lengths and ends. Rinse thoroughly again and squeeze gently with a towel.
For the best results and minimum wear, let your hair dry naturally and then brush through.
Cutting/Styling
After attaching your Nail Hair extensions it can be good to cut them to create a seamless and natural transition between your own hair and your extensions. To achieve a great transition, angle the scissors and thin out the extensions starting level with your own natural hair. If you are unsure how to do this then please contact us or your own hairdresser.

Extensions with Nail Hair can be styled using hot styling tools just like your own hair. When using curling irons, flat irons, hairdryers or any other kind of hot tool on your hair then you should protect your hair with a heat protector.
Rapunzel Heat Protection
gives you heat protection which surrounds and protects each strand of hair from all types of styling using heat. The heat protector gives silky soft and healthy hair and protects the hair against drying out from all types of heat styling, it works just as well on dry or damp hair. When you style your hair using heat you should also avoid the bonds, in this case the Nail bonds that are keeping your extensions attached. Heat on the bonds will melt them - just as it did when you attached them - and make them fall out.
Keratin extensions?
Many refer to Nail Hair as Keratin extensions or extensions with keratin. Rapunzel's Nail Hair bonds however, do not contain keratin. Keratin is a sulphurous protein which is the base of, amongst other things, hair, nails and horns. All real hair therefore contains a certain amount of the keratin protein just as does real hair in extensions. Keratin can also be found in wax and therefore also in some types of bonds. Keratin in wax is originally very hard and is often produced from animal products such as horns. The amount of keratin in bonds is generally speaking very low. Rapunzel uses synthetic ingredients – not keratin wax in our bonds. The bonds are instead developed to be both effective and gentle to attach and remove using remover and the special Nail Hair pliers.