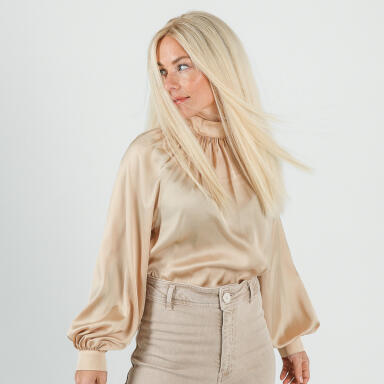 colors
Light cendre, ash base with golden undertone. Transitions to light blonde. Root. Warm/cool tone.
Lace Wig is a lifelike wig made of real hair. Each strand of hair has been hand-tied to a discreet mesh base that provides a seamless result with no visible edges. The size of the soft base is adjustable and follows the shape of the head for maximum comfort without chafing. The neck of the wig is reinforced with a weft for extra fullness. The wig has not been cut or styled so you are free to style as desired. Ask your hairdresser to cut the wig as desired. The parting of the wig can be varied and the hair can be styled.


Circumference: 54–60 cm
Weight 35 cm: 145 g hair
Weight 45 cm: 185 g hair
Weight 55 cm: 215 g hair
Contents: Dust bag, Extension Brush and storage box
Measure using 4 fingers, little finger to index finger, from your eyebrow up over your forehead. Place the wig where your index finger ends.
Carefully remove the wig by lifting it off from the inside. Never pull it off by the hair.
Washing:
Wash the wig after 7–10 uses with Rapunzel of Sweden shampoo, conditioner and hair mask.
Brush the hair with the extension brush before washing. Start with the ends and work your way up.
Fill a basin or bowl with lukewarm water and add a few drops of shampoo.
Place the wig in the water and let it soak up the shampoo. Rinse thoroughly.
Repeat with conditioner, avoid putting the hairline into the water. Rinse thoroughly.
Let the hair dry naturally on a wig stand.
Brush the hair when dry.
When washing under running water, apply shampoo and conditioner and avoid rubbing.
Please keep in mind:
Detangle the hair at least twice a day with the Extension Brush. Start by detangling it with your fingers, then hold it when you brush from the bottom and work your way up – always on dry hair.
Use moisturising products on the lengths such as conditioner, a mask or hair oil.
Do not use conditioner or mask at the base of the wig. This is to avoid the hairs coming loose from the base.
Always use heat protection when styling with heating tools and style at maximum 180°C.
DO NOT use hair colour, colour bomb, toning, tinting, colour mask, henna, silver shampoo, bleach or similar on Lace Wig. Get help from your hairdresser when dyeing Lace Wig
Protect the hair from the sun and avoid dipping it in the sea and chlorinated water.
Avoid contact with sunscreen and similar products that may discolour the hair.