colors
Dark brown. Golden undertone. Solid colour. Warm tone.
Premium Keratin Extensions – previously Nail Hair Premium
Product information
Premium Keratin Extensions/Nail Hair Premium is used for a full hair extension or thickening with a long-lasting result. The thick hair is remy and blends in nicely with your own hair for a natural look. The synthetic wax attachments are discreet and flexible, which means that the hair looks just as stylish tied up as it does loose. Keratin Extensions are easily styled together with your own hair.
Qty: 20 sections with wax attachments
Width: 7 mm
Weight 30 cm: 16 g of hair in 20 sections
Weight 40-60 cm: 20 g of hair in 20 sections
How many packs do I need?
2 packs of Premium Keratin Extensions 20 pieces and 1 pack of Premium Keratin Extensions 10 pieces for a volumising effect
5–6 packs of Premium Keratin Extensions 20 pieces for a full hair extension
7–10 packs of Premium Keratin Extensions 20 pieces for an extra voluminous hair extension
1 pack of Premium Keratin Extensions 20 pieces and 1 pack of Premium Keratin Extensions 10 pieces for a volumising effect
1 pack of Premium Keratin Extensions 10 pieces for colour effects and fillers
Depending on your current hairstyle, you may need more or fewer packs.
Choose the right length and color
Rapunzel of Sweden's extensions are made of real hair, so they act like real hair. This means that the colour of your extensions will not always be exactly the same and may sometimes differ from the product images. Read more about colour differences in the colour guide.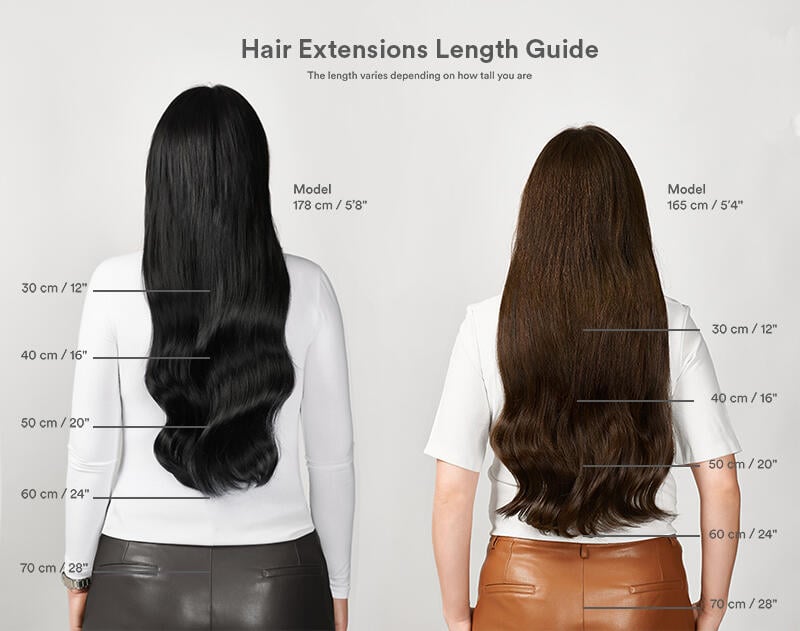 How do I insert Keratin Extensions?
Premium Keratin Extensions provide long-lasting hair extensions with minimal wear and tear to your own hair if inserted and removed correctly. For best results, follow the steps below.
Insertion procedure
Wash your hair. Use shampoo only. Dry it thoroughly and brush it.
Divide your hair into sections.
Take a section of your own hair. It should be as wide as the Keratin Extensions attachment and look like a semicircle.
Place a protective pad around the section and then a Keratin Extension under your own section of hair, approx. 0.5 cm from the hairline.
Melt the keratin attachment with the fusion connector designed for Keratin Extensions. Use two fingers to shape the attachment into a grain of rice around your own hair.
Repeat steps 3–5 with the remaining Keratin Extensions.
Tip! Cut the keratin attachment vertically to create smaller attachments at the sides of the face.
After insertion. Please note:
Do not wash or style your hair for at least two days after inserting Premium Keratin Extensions
Check the attachments after 6 weeks
Insertions can stay in for up to 3 months
When removing Premium Keratin Extensions, use Hair Extension Remover
Follow these steps to remove Keratin Extensions:
Apply remover to the mount - let it work.
Use Rapunzel's pliers for removal and squeeze the fastener firmly.
If necessary - Repeat.
Comb out the attachment.
If necessary: repeat on any leftovers.
Read more about Keratin Extensions/Nail Hair here.
Durability
With a permanent application, premium hair lasts for up to 6 months with proper care. Premium is made of real Remy hair. Premium is perfect for those who want long-lasting hair extensions or more volume, with a natural-looking result. The hair is soft, supple and easy to style with your own hair.
Washing:
Wash your hair with Rapunzel of Sweden's shampoo, conditioner and hair mask, which is adapted for extensions.
Detangle the hair with the Extension Brush before washing. Start with the ends and work your way up.
Rinse the hair with lukewarm water and then apply shampoo from root to tip. Avoiding rubbing. Rinse thoroughly and shampoo again.
Towel dry your hair with Rapunzel's Turban Hair Towel and then apply hair mask to the lengths, avoiding the attachments. Leave in for at least 10 minutes, then rinse thoroughly.
Apply conditioner to the lengths, avoiding the attachments and scalp. Rinse thoroughly.
Let the hair dry naturally or blow dry on low heat with heat protection.
Detangle the hair when dry.
Please keep in mind:
Detangle the hair at least twice a day with the Extension Brush. Make sure the attachments and hair are not tangled close to the scalp.
Always sleep with dry hair. Braid your hair and sleep on Rapunzel's Bamboo Pillow Case to reduce hair damage.
Always work out and do sports with braided hair.
Always use heat protection when styling with heating tools and style at maximum 180°C.
DO NOT use hair colour, colour bomb, toning, tinting, colour mask, henna, silver shampoo, bleach or similar on Nail Hair Extensions. Ask your Rapunzel hairdresser for help when dyeing extensions.
Protect the hair from the sun and avoid dipping it in the sea and chlorinated water.
Avoid contact with sunscreen and similar products that may discolour the hair.
Hair extensions are not recommended when taking certain medications and during certain diseases. Consult your doctor if you are not sure. Find out about any allergies before using extensions.