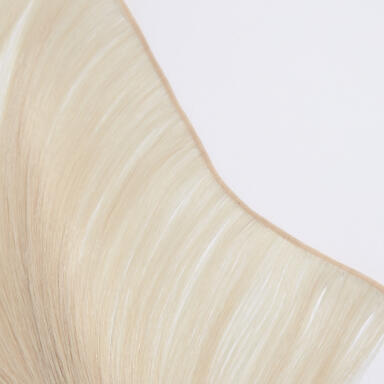 colors
Very light blonde. Cool undertone. Can be compared to 10.10 Platinum Blonde
Product information
Artist Talent Weft is an exclusive hair weft designed by hairdressers for hairdressers. The innovative design allows you to cut the weft to the desired width without losing hair or compromising on durability. Insertion is time-efficient as you do not need to attach the cut ends. The soft and flexible weft is very thin and lies flat and comfortably against the head, as the hair is integrated and has no inverted hairs. The real human hair is Remy and double drawn, which gives a voluminous result from root to tip. With the help of nano-rings, Artist Talent Weft gives a natural-looking result with invisible attachments.
Produktdetaljer
Width: 100 cm
Weight 40 cm: 45 g
Weight 60 cm: 60 g
Durability
Talent Weft is made of real Remy hair. Talent Weft is perfect for those who want long-lasting hair extensions or more volume, with a natural-looking result. The hair is soft, supple and easy to style with your own hair.


Washing
Wash your hair with Rapunzel of Sweden's shampoo, conditioner and hair mask, which is suitable for extensions.
Detangle the hair with the Extension Brush before washing. Start with the ends and work your way up.
Rinse the hair with lukewarm water and then apply shampoo from root to tip. Avoiding rubbing. Rinse thoroughly and shampoo again.
Towel dry your hair with Rapunzel's Turban Hair Towel and then apply the hair mask. Leave in for at least 10 minutes.
Apply conditioner to the lengths, avoiding the scalp. Rinse thoroughly.
Let the hair dry naturally or blow-dry on low heat with heat protection.
Detangle the hair when dry.
Please note
Detangle the hair at least twice a day with the Extension Brush. Make sure the attachments are not tangled close to the scalp.
Always sleep with dry hair. Braid your hair and sleep on Rapunzel's Bamboo Pillow Case to reduce hair damage.
Always work out and do sports with braided hair. If you have made a clip-on set of your Weft Extensions, remove it before sleeping, exercising or bathing.
Always use heat protection when styling with heating tools and style at maximum 180°C.
DO NOT use hair colour, colour bomb, toning, tinting, colour mask, henna, silver shampoo, bleach or similar on Weft Extensions. Ask your Rapunzel hairdresser for help when colouring extensions.
Protect your hair from the sun and avoid dipping your hair in sea and chlorinated water.
Avoid contact with sunscreen and similar products that may discolour the hair.
Hair extensions are not recommended when taking certain medications and during certain diseases. Consult your doctor if you are not sure. Find out about any allergies before using extensions.