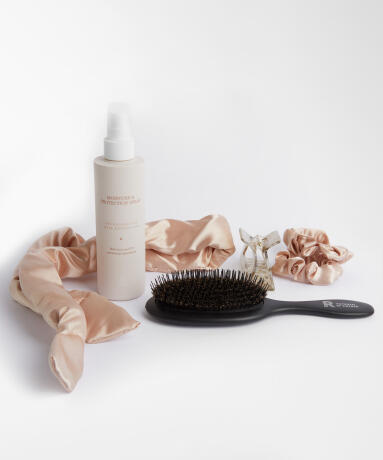 Product information
With the Heatless Styling set, you can achieve a beautiful hairstyle in three easy steps, with minimal effort and no wear and tear! The set contains everything you need: Moisture & Protection spray, Heatless Curls kit and Extension Brush.
Step 1: Spray your hair with Moisture & Protection spray. The protective and moisturising leave-in spray leaves your hair soft and shiny.
Step 2: Create stunning curls with the Heatless Curls kit. This method creates curls without heat and is therefore gentle on your hair.
Step 3: Detangle your hair with the Extension Brush. The hairbrush features a blend of natural boar and nylon bristles that gently detangle your hair and provide long-lasting shine.
With the Heatless Styling set as a part of your daily beauty routine, you'll get beautiful locks every day!
Heatless Styling set is the perfect gift, or a treat for yourself. Can be used with or without extensions. Total value 60 €
Contents
Heatless Curls Kit


1 satin bracket with integral flexible steel wire (diameter 90 x 3 cm)
2 satin scrunchies
1 hair clip

Moisture & Protection Spray
Hair Extension Brush
How do I use the Heatless Styling set?
Spray your hair with Moisture & Protection spray to moisten it slightly
Divide the hair into two sections
Use the hairgrip to secure the bracket on the centre of the head, ensuring that each side of the bracket is the same length
Twist the hair around the bracket and secure with the scrunchie
Leave on for at least 3–5 hours until the hair is completely dry, or overnight
Remove the scrunchie and the bracket, and style your hair as desired
Brush your hair thoroughly with the Hair Extension Brush
Finish with hairspray for the best hold.